Reposted from www.keyano.ca
Fort McMurray, AB –Friday May 10, 2019, marked the 53rd Convocation for Keyano College with 480 graduates celebrating the completion of their studies in certificate, diploma, and baccalaureate programs.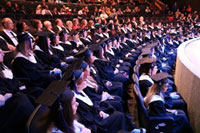 The two ceremonies, morning and afternoon, featured key speakers from the college as well as from the community who offered words of encouragement to the graduates.
The day also featured many special moments, including mother and daughter, Precious and Yolanda Chatukuta, proudly graduating together from the High Equivalency Diploma program. As well, the first graduates of the College's collaborative Bachelor of Science in Environmental Science program walked across the stage to accept their degrees from Mount Royal University.
This year's distinguished alumni, Nicole Bourque-Bouchier, is the Chief Executive Officer and co-owner of The Bouchier Group, one of the largest Indigenous-owned and operated companies in the Athabasca Oil Sands. She is a long-time resident of Fort McMurray, a member of the Mikisew Cree First Nation, and a trailblazing, dedicated community activist, and advocate for Indigenous women's economic empowerment.
The Valedictorian for a second year was Kelly MacIntyre, who also received Governor General's Academic Medal for graduating with the highest GPA from a diploma program.
Keyano's President, Dr. Trent Keough, in his first ceremony since taking the post, congratulated the graduates and asked them to reflect on their time at Keyano and reminded students of their influence and importance of their future contributions on the world.
Graduates also heard inspiring words from the Mayor of Wood Buffalo Regional Municipality, Don Scott, and Fort McMurray-Lac La Biche MLA Laila Goodridge.