OUR PEOPLE MAKE THE DIFFERENCE
As a team, Bouchier ensures the right people with the right skills are in the right seats and able to optimally develop the company, provide innovative solutions, manage projects, lead teams and mentor new employees.
"Bouchier values and takes care of their people, their clients and their community. They do that here consistently on a daily basis. They have their guiding principles, and they abide by them."

–Anonymous employee survey respondent, 2017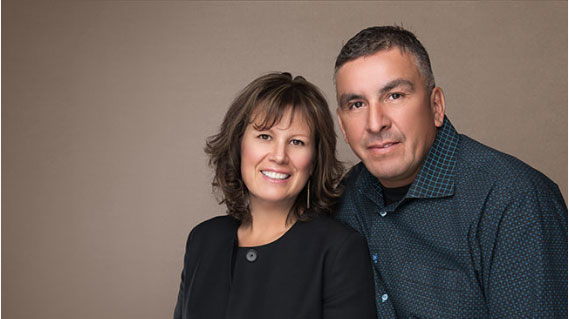 David Bouchier – Founder, President & Co-Owner
David was born and raised in Fort McKay, Alberta, and is a member of the Fort McKay First Nation. He founded Bouchier as a contracting services company in 1998. In 2004, David co-founded The Bouchier Group with his wife Nicole to provide additional site services to the Athabasca oil sands region.
David has extensive experience in the heavy equipment industry and has served as the General Manager for the Muskeg Mountain Limited Partnership, a First Nation-owned contracting company at the Fort McMurray Shell site. There, he was integral in the startup operation of the mine site.
David has been honoured with numerous awards, including the Fort McKay Entrepreneur Award as well as the Ernst & Young Oil and Gas Entrepreneur of the Year award.
Enjoying life in the Wood Buffalo region, along with his wife and children, is something that David values. He is committed to contributing both at a business and a personal level to the place he calls home. As a past and current Councillor of the Fort McKay First Nation, David works tirelessly to serve his community.
Gordon Valverde
Executive Director, Operations & Technical Services
Gordon Valverde has over 25 years of experience in the construction industry with expertise in oil and gas, building, civil, mechanical, industrial and energy related projects ranging in size and scale. He has spent the last 5 years fostering an EPC construction capability within Bouchier, and has led the positioning of Bouchier to be one of the first Indigenous EPC contractors servicing the Athabasca oil sands.
Gordon has worked on several projects within the Caribbean and Canada, bringing a global perspective and adept leadership to all facets of strategic management and business leadership, project management, engineering, bid and contract management and project controls.
Gordon embraces and lives Bouchier's guiding principles and consistently exceeds in valuing other team members, customers and communities by treating others with dignity, respect and fairness. While at Carillion, he was the first International Graduate of the Carillion Leadership Programme—a fast-tracked and select two-year leadership programme with MBA modules held at Aston Business School and Carillion PLC in the UK.
Gordon has completed post-graduate studies in Project Planning and Management and is a member of the Chartered Management Institute in the UK.
Jack Liu
Chief Financial Officer
Jack Liu joined Bouchier as CFO in June 2015, where he oversees the overall finance function of all operational and support service business units within the organization. His role supports financial reporting, strategic planning, strategy execution, commercial management, IT and risk management. Jack has been at the forefront of the continued growth of the Bouchier Group.
Throughout his 25 year career working in various industries, Jack has held many senior positions prior to joining Bouchier. These include Western Region Controller at Acuren Canada, Corporate Controller at Saskatchewan Indian Gaming Authority and Senior Project Controller at AMEC Natural Resources.
Jack received his MBA from Dalhousie University and holds CPA, CMA, CIA and PMP certification.
Joanne M. Brake
Director, Human Resources, Health, Safety & Environment
With 18 years of progressive Human Resources Leadership, Joanne joined Bouchier's journey in 2017. With a passion for people, a fascination with human behaviour and a thirst to make a difference, she's added incredible value to the Bouchier family. Proud of her roots, Joanne is a member of the Qalipu Mi'kmaq First Nation
Joanne began her career in the Public Sector for a Territorial Government, moving on to a Federal Crown Corporation in Marine Transportation and followed by assignments in Industrial, Piling, Pipeline and Heavy Construction and Mining for a Publicly Traded Company.
Primarily her career centered around Industrial/Labour Relations with a concentration on collective bargaining, mediation and dispute resolution while maintaining Human Resources Generalist portfolios.
With a proven track in coaching, mentoring and delivering results, Joanne's focus is to inspire others through sharing her strategic vision with a focus on process and people development to achieve operational excellence.
Joanne first studied Business Administration and later supplemented her knowledge with continued professional development through Queen's University.
Herald Gates
Director of Operations
Marc Churla
Director of Operations
Aurick Desousa
Director of Operations
WE CARE. WE INSPIRE. WE DELIVER.