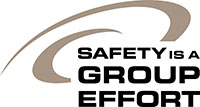 SAFETY ALWAYS COMES FIRST
Safety is a core value at Bouchier and is built into every aspect of our work. We never compromise when it comes to the Health & Safety since there is nothing more important than ensuring the safety of people, both at work in our operations and also in our neighbouring communities.
Bouchier has one of the best safety records in the region.
Through our formalized, well-established and industry leading Health, Safety & Environment (HSE) program, rigorous protocol and procedures and Integrity management systems we've consistently demonstrated that we can provide clients with a quality, reliable, productive service and keep our people safe.
At Bouchier, we are all accountable to each other to maintain an environment of safety excellence to ensure people are sent home safely at the end of the work day. Our employees always going above and beyond for safety, are highly involved in prevention and integral to meeting milestones without incident
In July 2019, Bouchier achieved a significant safety milestone: One Million Hours Worked Without a Recordable Injury!
Bouchier's COR-certified Health,
Safety & Environment (HSE) program includes:
Rigorous protocol and procedures: Performance Management Architecture (Integrity Management system), tracking trends, following leading indicator programs, referencing historical records, etc
Written standards, best practices, outcomes and metrics tracked daily
Regular risk assessment of all contracts
Ongoing site tours: Proactive review and discussions about Health & Safety issues with people at all levels
Incentives: Employees are rewarded for their participation, their quality submissions and going above and beyond
Accountability: Everyone owns safety and are involved in daily prevention and meeting milestones without incident
The development of genuinely respectful 360-degree relationships